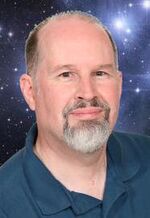 Timothy Zahn (born 1 September 1951) is a writer of science fiction short stories and novels. His novella Cascade Point won the 1984 Hugo Award. He is known for the Thrawn Trilogy, three Star Wars novels taking place after Return of the Jedi. He also wrote the Dragonback series and the popular Conquerors trilogy.
Zahn wrote the short story "With One Stone" for the anthology The Service of the Sword. A follow-up story, "An Act of War", was included in the fifth anthology, In Fire Forged, and a third one, A Call To Arms, was published in the sixth anthology, Beginnings.
In November 2012, Zahn announced that he and David Weber were working on the first book of a new Honorverse spin-off trilogy, set in the early days of the Star Kingdom of Manticore and centered on a new character named Travis Long. The first book was released in 2014; after the release of the third book, it was announced that the planned trilogy was being expanded with at least a fourth novel.
Weber likely named the character Tim Zahn in War of Honor after him.
Work (Honorverse only)
[
]
Short Stories
[
]
"With One Stone" in The Service of the Sword (2003)
"An Act of War" in In Fire Forged (2011)
"A Call to Arms" in Beginnings (2013)
Novels
[
]
External link
[
]