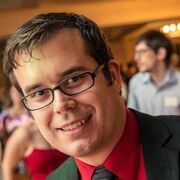 Thomas Marrone (born August 30, 1983) is an American illustrator who has done work for a variety of Honor Harrington projects for both licensed material and the books themselves.
His credits include:
Marrone's most significant collection of Honorverse art will be published in House of Steel: The Honorverse Companion, which includes dozens of new black-and-white and full-color illustrations.
He is the senior artist of the BuNine group, described as "David Weber's Honorverse technical support team." Marrone works with the technical experts, consultants and veterans in BuNine to bring the Honorverse to life visually by making sure that form follows function and still looks cool.
By day, Marrone is employed by PC Game Developer Cryptic Studios as a User Interface Artist for the MMO Star Trek Online .
A character in Shadow of Freedom was named for him. In House of Steel: The Honorverse Companion, a GSN Protector Adrian-class heavy cruiser with the hull number CA-29 bears the name GNS Thomas Marrone.
External links
[
]