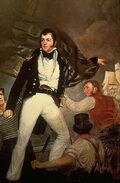 Oliver Hazard Perry was a citizen of the United States, a country on Earth during the early part of the 19th Century CE.
Perry led the US Forces at the Battle of Lake Erie. He had a younger brother named Matthew Perry, who also served in the United States military.
In 1903 PD, Perry was mistaken for his brother and credited with the wrong battle, which was the Battle of Lake Champlain, by Honor Harrington. (HH2)
Community content is available under
CC-BY-SA
unless otherwise noted.