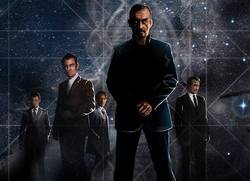 The Detweiler family was a powerful family of politicians and scientists hailing from the planet Beowulf, which formed the core of the genetically augmented elite of the Mesan Alignment.
The first known member was Leonard Detweiler, a proponent of human genetic engineering who left Beowulf and became the founder of the Mesa colony and the slaving corporation known in later centuries as Manpower Incorporated.[1] The Detweilers faked extinction of the Detweiler line, going into hiding to manage Mesa without most Mesans even knowing about their existence.
As with certain other Mesan families, the males of the Detweiler family were essentially clones of Leonard Detweiler. (HH11, SI2)
Known Members
Edit
References
Edit
Community content is available under
CC-BY-SA
unless otherwise noted.